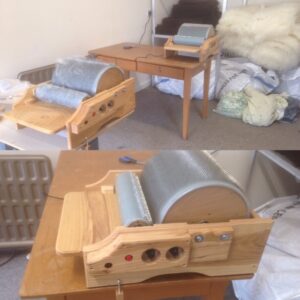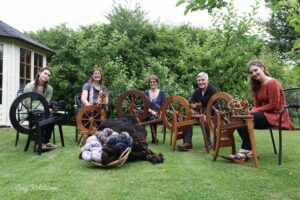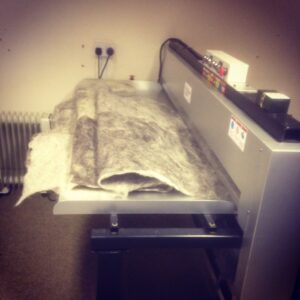 We will look at Spinning Wheel mechanics, co-ordination and drafting skills – perfecting your technique to achieve yarn. There will be plenty of time to gain your rhythm to produce two bobbins with plenty of guidance on hand.  We will ply our bobbins and explore why we do this.  We will make skeins and discuss preserving your yarns naturally.  Individually tailored tuition for all, from complete beginners to experienced spinners.
Explores our fashion perspectives, lots of different fibres, sheep breeds and farming roots.
Working with a natural fleece, showing how to sort, wash and prepare fibres for spinning, perfecting carding skills.
Update:  With the addition of our new felting machine we have been developing many of our production processes while the world has been a bit tricky for visitors
We are now offering a new training scheme which offers long term training one day a week for voluntry production input to gain experience in the different fibres. We have availability for this on Thursdays and Fridays – 9.30 till 5 or Tues evenings 6.30 – 9pm