Shearing Season at the Farm
With the high drama of the lambing season properly out of the way, the next big event in the Fibre Farming calendar is shearing season. This is an extremely exciting time for us at The Woolshed (new fleece to play with!) but also a busy one as we prepare to sort, wash, pick, card and felt seemingly endless piles of wool.
As it is our ethos at Spinning Earth Wool (SEW) to work in a way that remains deeply connected to the cycles of farming and our local land, Della spends days at this time of year accompanying the farm manager and shearers as the sheep are relieved of their winter insulation. This year, we have Dorset Horn, Portland, Manx Loaghtan and the much-coveted Silky Wensleydale incoming. These wools all come with their different qualities and strengths, and throughout the coming year will provide the basis for many of the products we make and sell under our own label.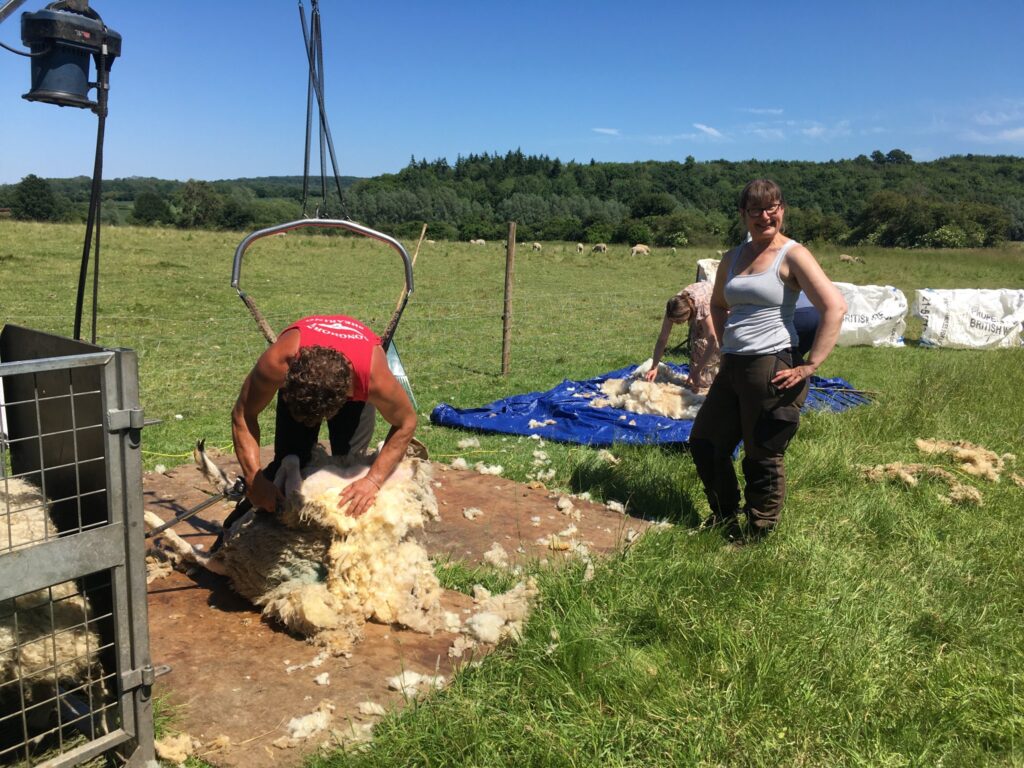 Shearing is also the time of year when we start to take in more of other farmers' fleece to process on their behalf. We love this opportunity to experience a wide variety of wool first hand. Smaller shepherds of rare breed flocks often lack the facilities to process large amounts of wool so often turn to the services of mills to do this for them. At the woolshed we are able to sort, wash and card wool into fluffy spinable batts, or take fleece further down the process and make it into felt cloth, or even products to sell on. Many smaller scale shepherds are making a vital contribution to keeping British Rare Breeds alive and we take pleasure in working with them to turn their ideas for wool use into reality. Not all clients come to us with conventional fibre or want conventional end products and the creativity of our clients never ceases to impress us. Watch this space for future posts on some of the most interesting and unusual test runs we have undertaken for clients! 
Jade's Jotter; Tour De Fleece is well underway
July is also the month where fibre artists across the world get involved with Tour De Fleece, the international spinning event which runs concurrent to the bicycle race Tour de France. The concept of this event is simple- while the bike wheels are turning, so are our spinning wheels and spindles! During this event people form teams to compete to spin the most yardage, or achieve specific goals. Solo spinners often take this opportunity to meet personal spinning goals, spin through their fibre stash, or lean new techniques. My primary goal for Tour De Fleece is to spin up 1kg of a blend I have been saving for a large wrap I want to make on my 32 inch rigid heddle loom. I also want to take some time to play with some of the newly sheered Manx Loaghton we have at the woolshed. Watch this space for breed studies and tutorials involving Manx and the other fleeces from this summer's shearing cycle
Romney Marsh Wools, who keep a flock of amazing Kent Romney (a personal favourite of mine) and Merino sheep will be attending the Summer Wool Festival this year. We are proud to work Romney Marsh Wools, turning some of their fantastic fleece into felted products for them. We love to cheerlead local fibre businesses so please do say hi to them if you are attending!
Summer Wool Festival, 30th and 31st July, Redborne School and Community College, Flitwick Road, Ampthill, Bedfordshire MK45 2NU
If you want to hear more from us at the woolshed, you can follow us on Facebook or Instagram.
Jade is one of our resident fibre artists and she writes the Spinning Earth Wool Blog. You can find out more about her on her own page, Jade Threads