This week is the first of our deep-dives into the breeds of sheep we make our single source felted fabric from. Manx Loaghtan, an Isle of Man native breed, were once near to extinction. They are still classed as a rare breed, with a limited pool of registered breeding ewes available.
Described by the Wye community farm manager as 'feral', 'mad' and other, less publishable monikers, this classic primitive breed retains characteristics which have long been bred out of more commercially popular flocks. The springy, lanolin-rich fleece is of the 'moorit' type, a particular shade of brown which only occurs in a handful of sheep breeds. In fact, the root of their name, 'Loaghtan', means 'Mouse-coloured'. When the breed was dominant on the Isle of Man they displayed a range of colours, however the unique 'moorit' tone was favoured as dyeing was an expensive process, leading to selective breeding. Manx have the potential to grow up to six horns, although two and four are more commonly seen.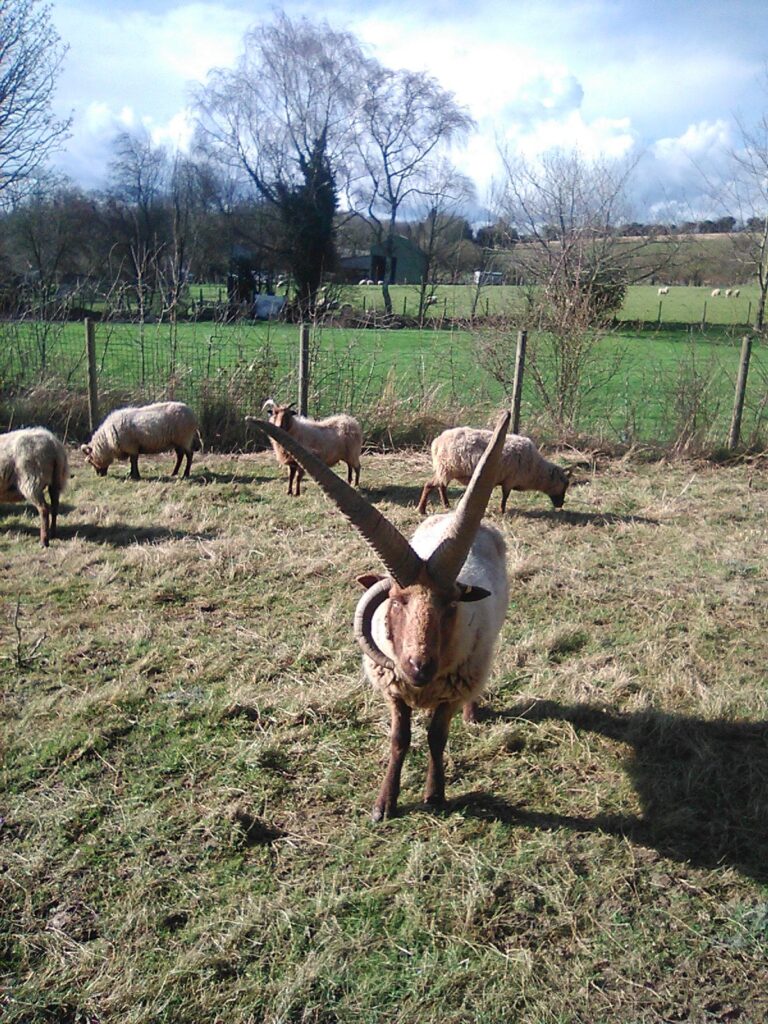 As the dyeing process became more industrialised and less expensive, the breed lost favour and was nearly entirely extinct. This caused massive ecological changes in the areas in which they were previously abundant. Among other species, they took with them the Red Billed Chough, which relied on their particular grazing behaviours to create their breeding habitat. Fortunately, efforts to revive the breed have kept stocks available for use in reintroduction of Choughs, notably in Jersey.  Manx Loaghtan are able to thrive on in the coastal, cliffside areas Choughs like to breed. They are able to control and tramp down bracken, which leads to revival of native plants and a greater density of bugs and worms in the soil. Their dung creates feeding opportunies for the Chough and their offspring thanks to the beetle and fly larvae which occurs in it.
As this perfectly exemplifies; preservation of our heritage and rare breed farm animals can have far-reaching consequences for wider ecological conservation. Currently, Herdwick sheep are being used in Dover for similar Chough reintroduction efforts.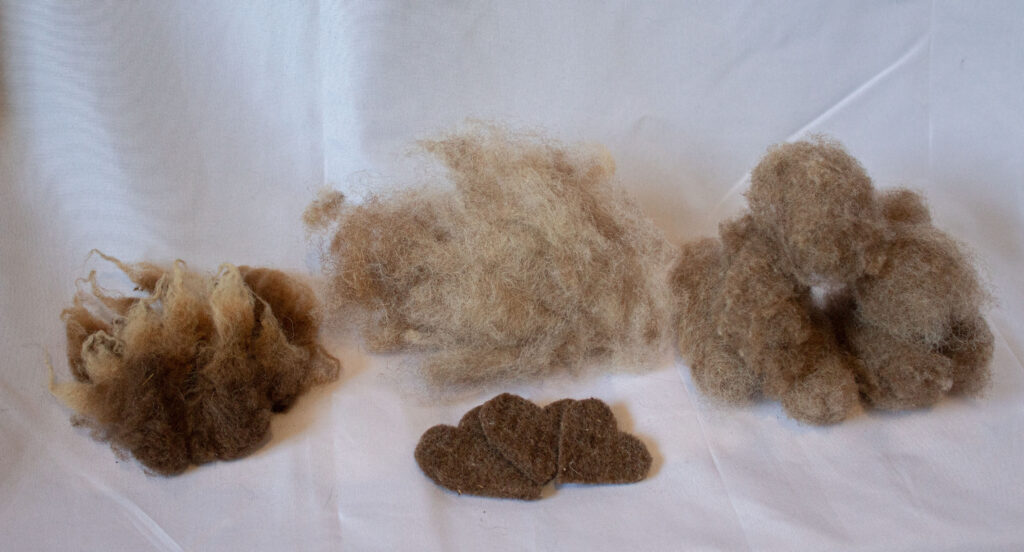 Della (our glorious leader at the woolshed) let me take some Manx fleece home with me to have a play with:
Manx fleece is typically soft with a strong, even crimp. It bleaches easily in the sun, producing lovely blond highlights throughout yarn or felt made from it. It is well suited to durable outer-wear, though people less sensitive to wool may be able to wear it against the skin comfortably.  Staple length can range from 2.5" to 5" and fibre diameter ranges from 27 to 33 microns. While I have read that some Manx fleece can be hairy, the locks I have here are all wool. The lovely gradient transition from the creamy tip to the darker root brings to mind antique books; aged pages and weathered leather.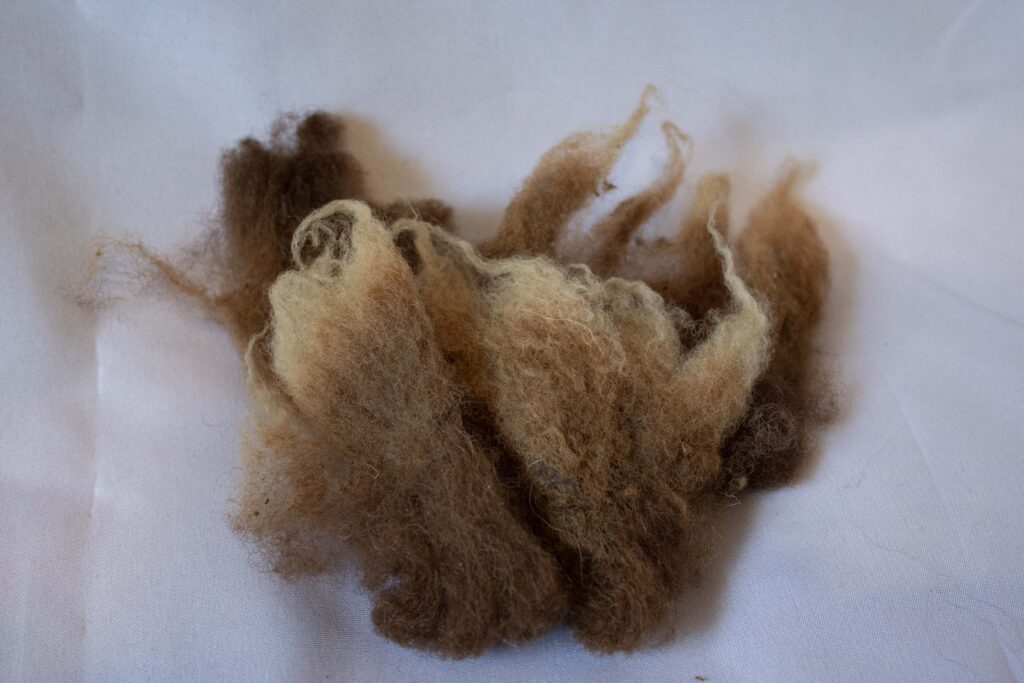 Being lanolin-rich, the fleece requires some washing. This fleece has a mild, almost perfumed natural smell to it and very little vegetable matter. If I were to spin with it, I would be more than happy to spin 'in the grease' but for the sake of exploration, into the sink it goes!  Manx has medium felting ability which means that it can withstand heat and a little agitating whist being washed, without coming out matted. Despite this initial felting resistance, it is still a great wool to work with for needle and wet felting. It washes up into a lovely, light fibre with a range of tonal browns from lightest cream to milk-chocolate.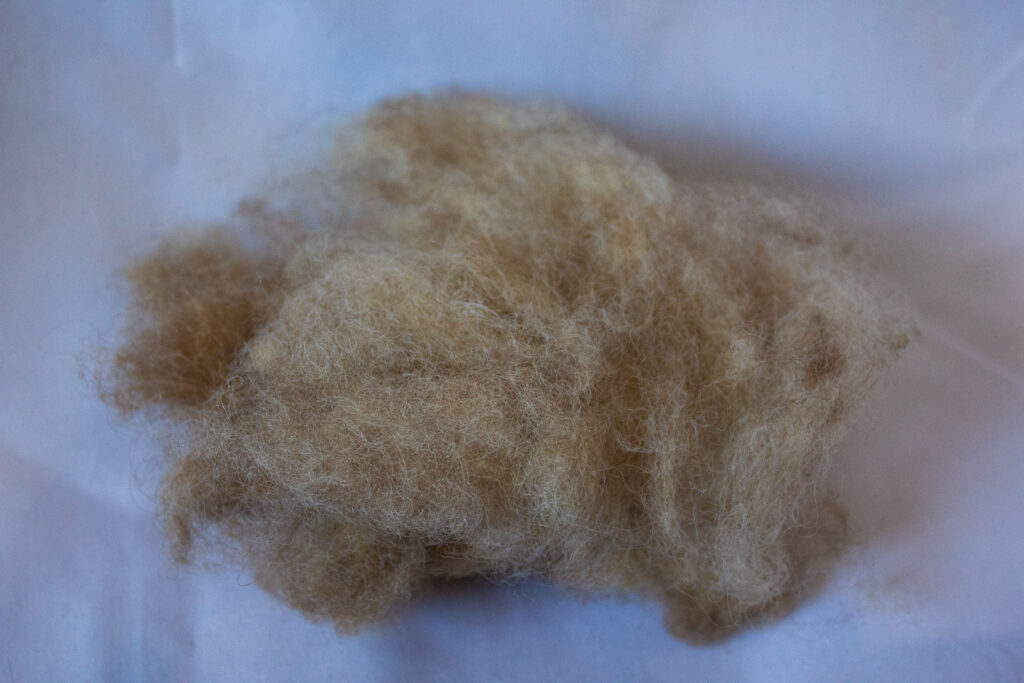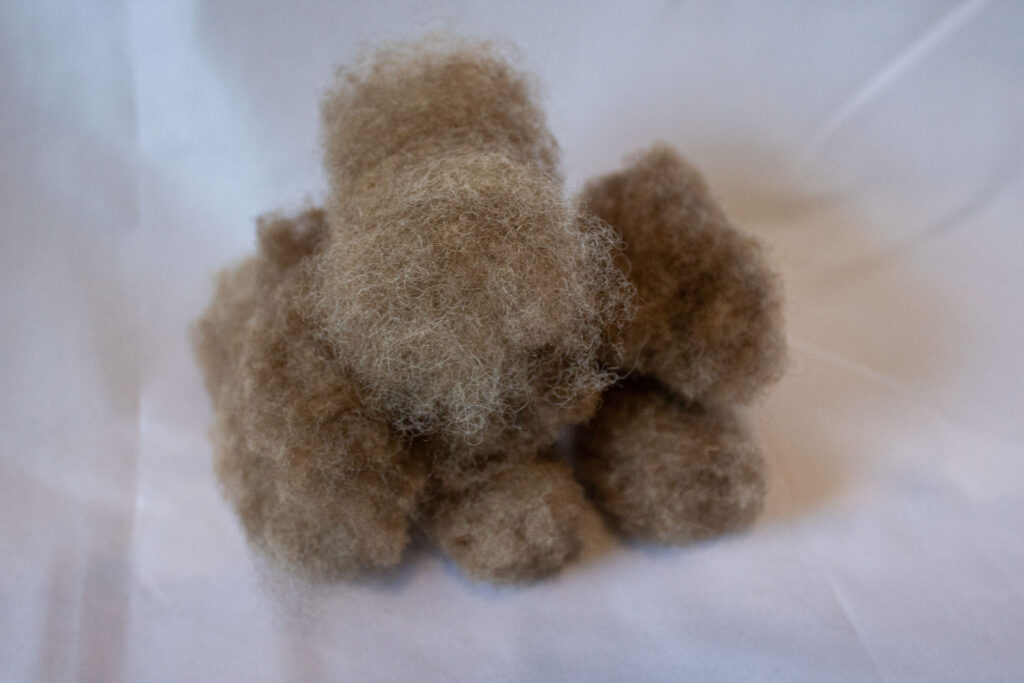 Hand-carded into small rolags, the fibre drafts well. With a woolen preparation, it makes for a bouncy, lightweight yarn. Sadly, my ability to use hand carders is limited by a shoulder injury, so I will get properly into spinning and needle felting with it when my drum carder arrives later in the month (watch this space for the follow up post!).  I tried needle felting a little of it into a ball, and though it took a while to get going, once it did it made a wonderfully smooth and firm felt, with a pleasingly variegated surface. I also tried spinning a little up on a drop spindle. Despite a shorter staple length of 3.5 inches, it spins like a dream and produces a very strong single. It seems happy to be drafted medium fine, if you are going for sock weight or heavy lace this should suit you perfectly. It reminds me a little of spinning Jacobs fleece; great consistency and definition, though perhaps a little course for skin-facing fabric.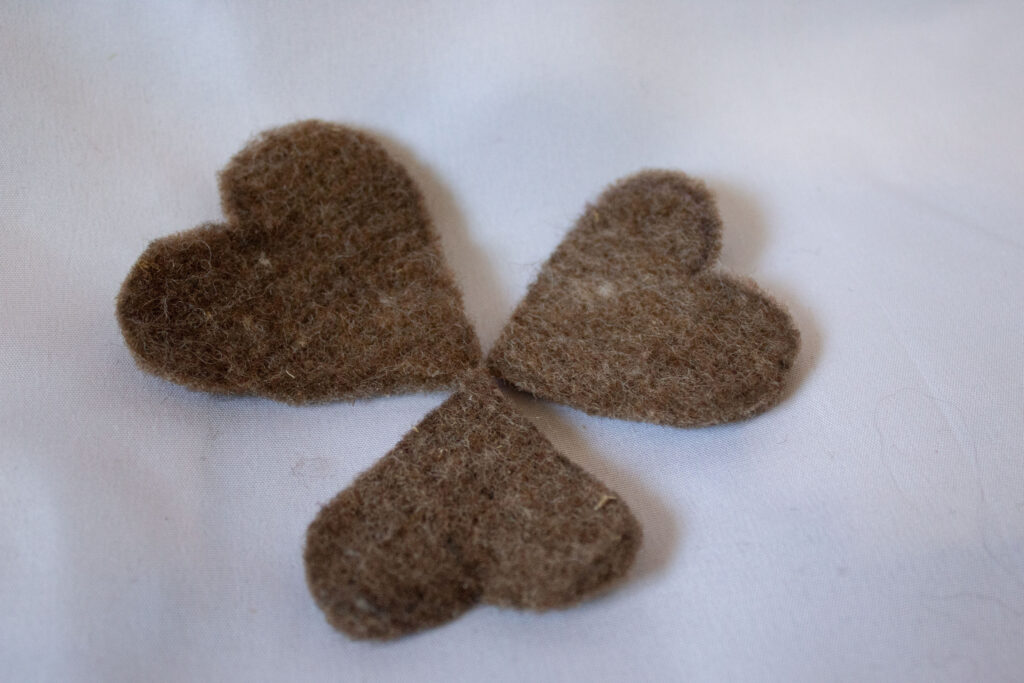 The felted cloth produced from the fibre is soft and springy with a little bit of a halo. It is a gorgeous biscuit colour and suitable for a range of uses. Here you can see it made up into various products by the design and sewing wizards of the woolshed.
I hope you will join be back here soon to explore some spinning and crafting with Manx Loaghtan fleece and felt. In the meantime, keep an eye out for a look at the benefits of switching to eco-dish cloths, and some of our thoughts on slow fashion in the modern era.
If you want to hear more from us at the woolshed, you can follow us on Facebook or Instagram.
Jade is one of our resident fibre artists and she writes the Spinning Earth Wool Blog. You can find out more about her on her own page, Jade Threads